The Northern Palm Beach County AAUW Charitable Foundation offers scholarships to Palm Beach County women residents who are currently enrolled as undergraduates at a college or university. Applicants must be registered voters and US Citizens. Since 1999, 51 deserving local women have been awarded scholarships ranging from $500 to $1,000 to help them complete their college educations.  The deadline to submit applications was March 15, 2018. Scholarship recipients were notified in May 2018. Five well qualified women were awarded scholarships for the 2018-2019 academic year.
The Foundation holds its major fundraiser in February. One of the beneficiaries of the event is  the Doris Karlik Local Scholarship Fund, Three of the scholarship recipients are pictured  here with Doris Karlik.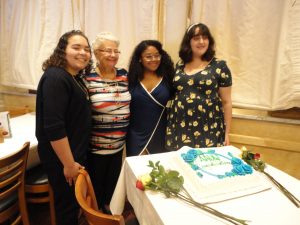 The very successful 2018 Annual Benefit Luncheon was held at 11 am on Saturday February 10th in the Seasons 52 Restaurant located at 11611 Ellison Wilson Road in Palm Beach Gardens. See the March 2018 Branch Out  to learn about the event and to see a few of the photos. The 2019 Luncheon will be held on Saturday, February 23rd at Sandhill Crane Country Club in Palm Beach Gardens.
If you would like to make a contribution to the Charitable Foundation, make your check payable to Charitable Foundation, Inc. NPBC AAUW and mail it to Charitable Foundation NPBC AAUW c/o Campbell and Karlik, 3450 Northlake Blvd, Suite 210, Palm Beach Gardens, FL 33403.  All contributions to the fund are income tax deductible.
npbaauwscholarship@gmail.com