Read our most recent issue of September 2018 Banch Out, the branch newsletter.
Join us for the salad and dessert potuck Dinner at 6:30 pm at the North Palm Beach Library. Pat Ross, AAUW Florida President will discuss the strategic plan for the next two years, and  the priorities for this year.  We will also hear from Paulina Oporto Cespedes, who we sponsored at the NCCWSL conference at the University of Maryland in June.  She will tell us about her experience at the conference.  Guests and prospective members are welcome.  There will be a special AAUW membership offer for new members that is good only at this meeting.
Plan on attending the October 15th meeting to hear about the election and the amendment questions on the ballot on November 6th.  Bring your questions. Guests definitely welcome. A complete branch calendar is included in the newsletter.
Sue Slone was selected as the branch AAUW Fund honoree for the wide variety of things she has accomplished and positions she has held during her 41 years as a member of the branch. For the last three years she has served as the Tech Trek Florida Camp Director.  This year 64 girls from various areas of the state will attend this summer's  camp.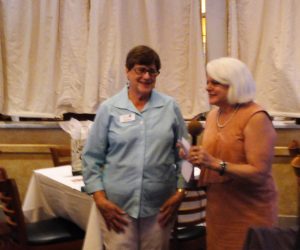 AAUW-FL Northern Palm Beach County – Looking Forward:
June 2019 – Dates of the two week long residential Tech Trek camps hosted by the American Association of University Women – Florida (AAUW-FL) for girls who will enter the 8th grade in the fall will be announced in September. The camp is uniquely designed to engage girls curiosity in science, technology, engineering, and mathematics (STEM) through activities that build their skills and interest in pursuing STEM careers. A longtime leader on issues related to women and girls in STEM, AAUW is striving through these camps to expand the number of middle school girls interested in STEM disciplines so they will continue to take classes in these fields in middle school and beyond. The long term goal is to increase the number of women employed in these disciplines where they are currently underrepresented.
Tech Trek Camp Funding
It takes approximately $1,100 per girl to hold the camp each year. Branches should solicit financial support from local corporations  so the burden of financing the camp does not  fall entirely on AAUW Florida members. The 2019 camps are a project of the AAUW Florida Supporting Foundation, Inc. Income tax-deductible contributions can be made by writing a check payable to AAUW Florida Supporting Foundation, noting it is for Tech Trek in the memo line. Mail it to Tech Trek Florida Treasurer, PO Box 2938, Jupiter, FL 33468.
The 2018 Florida camp received generous contributions from Praxair Inc., Symantec, AT&T,  AAUW Florida, Susan Berlin, DDS, the Merrill G. and Emita E. Hastings Foundation, the Community Foundation of Sarasota's AAUW  Sarasota Branch Norma Heeps Fund, and the Charitable Foundation of AAUW Northern Palm Beach County,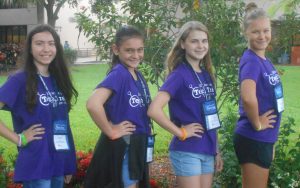 Four of the five girls from the northern Palm Beach County area.
To see more photos of the 64 girls who attended the 2018 camp, please visit the camp website at https:techtrek-fl.aauw.net