Read our most recent issue of the branch newsletter:   May 2019 Branch Out  
The May Awards Dinner was held on May 13th at Brio Tuscan Grille, Palm Beach Gardens Mall.  Scholarship winners were announced and new branch officers were inducted by Doris Karlik.
Deborah Nelson was announced as the 2019 Named Honoree for the Northern Palm Beach County Branch. Deborah is a former two-term Branch Treasurer, benefit luncheon volunteer responsible for our beautiful opportunity auction baskets and she and her family are all-around branch helpers for many years.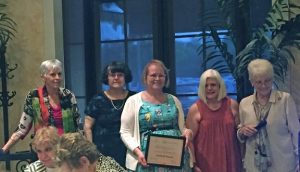 From left Carol Renick, Cheryll Plotkin, Deborah Nelson, Gayle Cratty and Judy Pierman.  The Named Honoree is the highest branch recognition for a member.  The branch makes a contribution to AAUW national or state funds in the name of a selected member.
Also at the dinner, below  Judy Pierman announces a surprise certificate honoring and thanking Gayle Cratty for her outstanding management of the Benefit Luncheon for the previous two years.   We raised the highest amount over the past two years in recent history.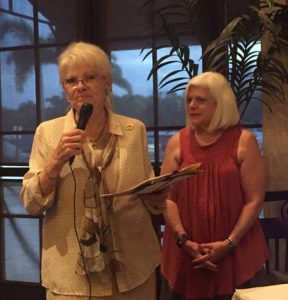 AAUW-FL Northern Palm Beach County – Looking Forward:
June 2019 – The two week long residential Tech Trek camps hosted by the American Association of University Women – Florida (AAUW-FL) for girls who will enter the 8th grade in the fall are June 9 -15 at Stetson University in Deland and Florida Atlantic University in Jupiter from June 16 – 22. The camp is uniquely designed to engage girls curiosity in science, technology, engineering, and mathematics (STEM) through activities that build their skills and interest in pursuing STEM careers. A longtime leader on issues related to women and girls in STEM, AAUW is striving through these camps to expand the number of middle school girls interested in STEM disciplines so they will continue to take classes in these fields in middle school and beyond. The long term goal is to increase the number of women employed in these disciplines where they are currently underrepresented. Four Northern Palm Beach County girls have been selected to attend the Jupiter camp and two others will go to the Stetson camp.
More information is available at https://techtrek-fl.aauw.net.
Tech Trek Camp Funding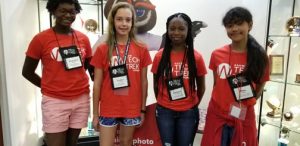 Here are four of the six middle school girls we sponsored who attended 2019 Tech Trek at the Jupiter campus of Florida Atlantic University in June from Northern Palm Beach County.  As stated above, two girls, not shown, will attend FL Tech Trek at Stetson University in July.
It takes approximately $1,100 per girl to hold the camp each year. Branches should solicit financial support from local corporations  so the burden of financing the camp does not  fall entirely on AAUW Florida members. The 2019 and future camps are a project of the AAUW Florida Supporting Foundation, Inc. Income tax-deductible contributions can be made by writing a check payable to AAUW Florida Supporting Foundation, noting it is for Tech Trek in the memo line. Mail it to Tech Trek Florida Treasurer, PO Box 2938, Jupiter, FL 33468.
The 2018 Florida camp received generous contributions from Praxair Inc., Symantec, AT&T,  AAUW Florida, Susan Berlin, DDS, the Merrill G. and Emita E. Hastings Foundation, the Community Foundation of Sarasota's AAUW  Sarasota Branch Norma Heeps Fund, and the Charitable Foundation of AAUW Northern Palm Beach County,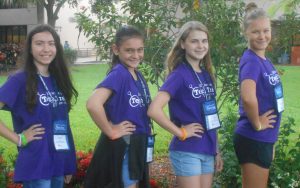 Four of the five girls from the northern Palm Beach County area.
To see more photos of the 64 girls who attended the 2018 camp, please visit the camp website at https:techtrek-fl.aauw.net